Wallpaper Wizard 2 for 1 Mac
Special Price
7,27 €
Regular Price
14,65 €
Disponibilidad:
Disponible
Buy Wallpaper Wizard 2 now! 
Wallpaper Wizard 2 is an elegant app that delivers HD, Retina-compatible wallpapers right to your desktop. There are thousands of images divided by themes and moods into collections.
You will receive your code to redeem in your account within minutes by eMail. In order not to miss out the mail, please check the spam or junk mail folder
Delivery Time: 1~24 hours
How to download WallpaperApps 2: Download Link
Wallpaper Wizard 2 is an elegant application that can provide your desktop with HD wallpapers compatible with Retina. There are thousands of images grouped into collections according to themes and moods. Naturally, every wallpaper in the app has excellent quality and visual appeal.
At any time, you can choose wallpapers of different themes according to your mood. A large number of wallpapers are available for you to choose, adding more freshness to your daily life.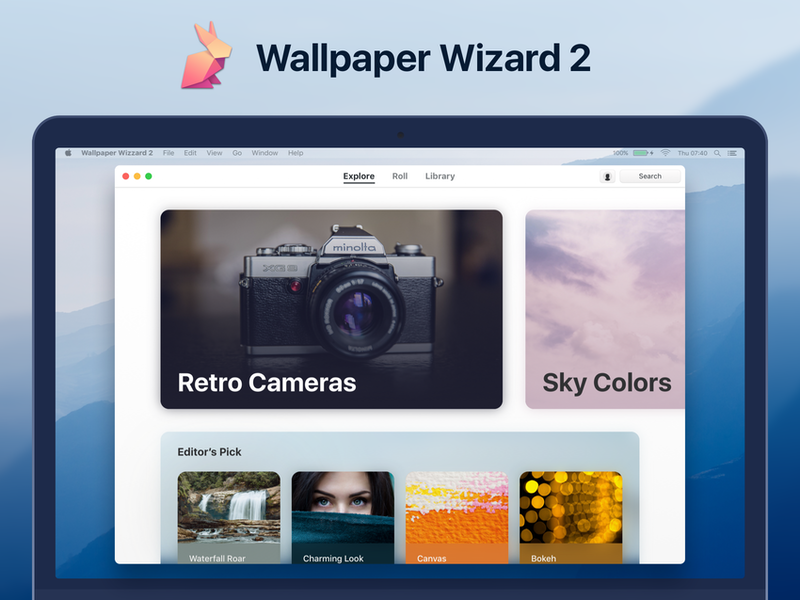 Features:
Seriously good images
As we said, all wallpapers undergo the scrutiny of a moderator, so you'll never have to sift through Windows XP-ish landscapes. We've already done that for you, don't thank us.
HD 4K quality
Finding good pictures for your desktop is one thing, but finding pictures that look good on a big Retina display? Ouch. But don't worry: all wallpapers in the app are in 4K quality, so no resolution issues anymore.
A new desktop every day
Wallpaper Wizard works like a playlist: just add all backgrounds you like to Roll and let the app set you a new one every week, day, or hour. With over 25K images and new arrivals monthly, you're very unlikely to run out of wallpapers within your Mac's lifetime.
Beauty for all your displays
For a little extra, you can use Wallpaper Wizard 2 on each of your multiple displays. Set the same background on all of them, use a different for each, or have wallpapers roll through all displays one by one.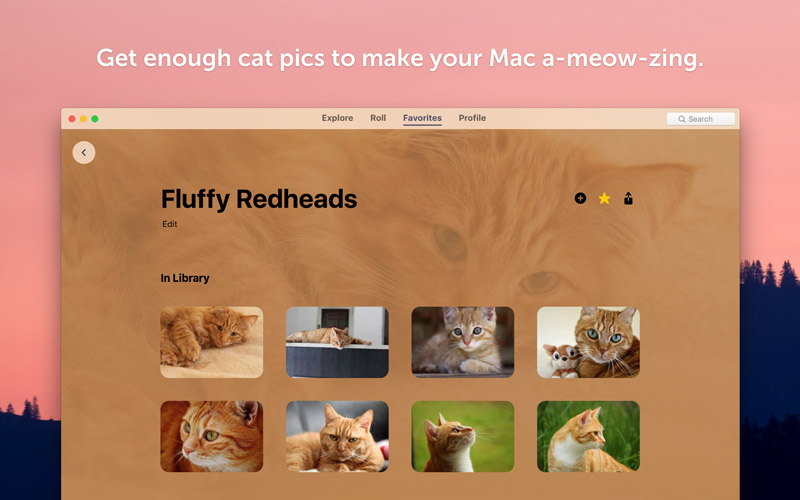 Your Mac is ever-changing, never boring.
Some people like fresh background wallpapers every week, some people like it every day, and some people like it every hour. With the Wallpaper Wizard, you can get a new desktop as you like without having to move the mouse. Add your favorite wallpapers to Roll, choose how often you want them to be replaced, and then let the app do its magic.
You'll never run out of HD desktop pictures.
Your Mac's high-resolutin display is begging for crisp, high-resolution desktop photos, but finding them online is a whole new kind of pain. We know, because we did it. If there's an HD image worth looking at on the web, we've found it and put it in Wallpaper Wizard, so by now there are thousands of backgrounds and wallpapers in high quality.
Whatever wallpaper you want, you got it.
Whether you like dramatic sea views, subtle textures, or Instagram-y still life, Wallpaper Wizard has got your background. You can spare yourself the Google search — just open the app and pick a collection that catches your eye, or find the perfect eye candy by categories and keywords.
Many backgrounds for your many displays.
Maybe you use a MacBook Air connected to a 4K display, or maybe an iMac with three monitors — no matter how many displays you juggle, Wallpaper Wizard will make them all pretty. Set a different wallpaper on each one or use the same background for seamless switching, and have a wow moment every time your Mac lights up.
You can set a single wallpaper you like, or roll an endless playlist of photos. The roll is literally endless and the queue is built automatically, based on the images you've chosen as favorites or the ones you played the most.
Escribir Su propia reseña